Drink If Game - Cabin Themed Games - Log Cabin Party Supplies
Drink If Game - Cabin Themed Games - Log Cabin Party Supplies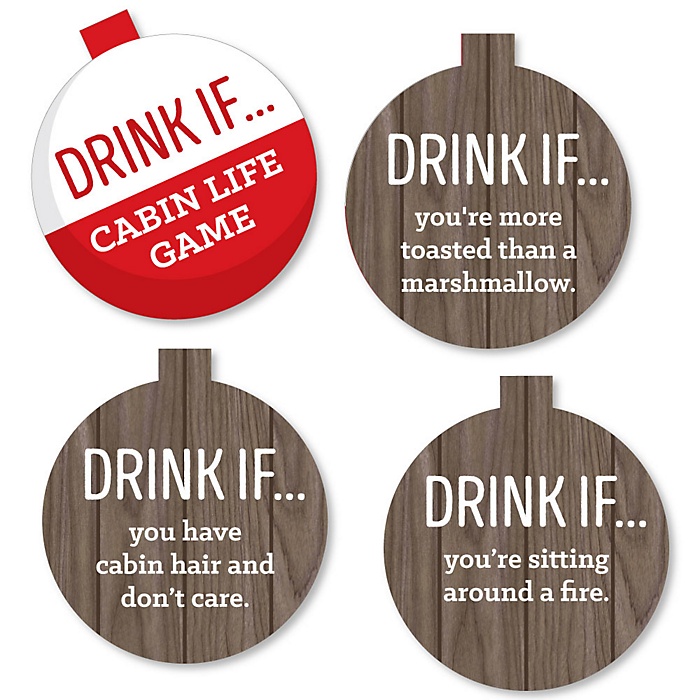 *Amazon products will not have custom text options
Description
Gather your friends and family for an unforgettable party at the cabin or the lake when you play this fun Drink If … party game. Make sure each adult starts with a full drink and then let the celebration begin.
Fun Ideas for your Drink If … Game:
Perfect for a weekend at the cabin, a fishing opener party and even a gals/girls weekend away.
Put one guest in charge of picking cards and deciding who drinks what and when.
Use as an ice breaker when the party starts or bring them along for an all-night event.
This adult drink if game has something for everyone as each card prompts a specific Drink If … dare, such as "Drink if your wearing a swimsuit" and "Drink if you're sleeping on the top bunk." Play at home during a casual family get together or bring them to the cabin or lake for entertainment while away from home. Drink If … cards are perfect for any party, gals/girls weekend, or night out on the town.
Drink If … Cabin Themed Game:
24 cards with specific Drink If … instructions.
Printed on heavy card stock and cut in a diamond ring shape.
Cards measure 2.5" x 4.0"